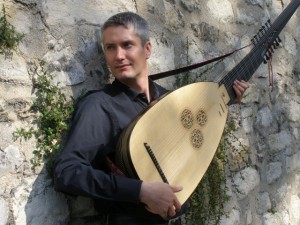 André Henrich graduated in 2000 from the Musikhochschule in Cologne, where he had studied the lute with Konrad Junghänel. He has given recitals at the Concertgebouw Bruges, the festival Baroque Strings and Bows in Poznan, Poland, at the Muziek Biennale Niederrhein, in India and Japan.
As a chamber music partner he works regularly with Les Folies Françoises, Les Musiciens de Saint-Julien, Fuoco e Cenere and flautist Dorothee Oberlinger's Ensemble 1700, as well as in the field of opera with Les Arts Florissants, Opera Fuoco and others.
He has participated in more than 30 CD-recordings and teaches lute and theorbo at the Conservatory of Saint-Maur-des-Fossés.