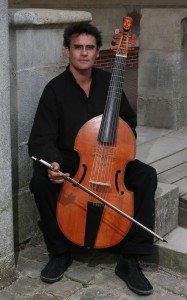 Born in Chile, Victor Aragon grew up in Venezuela where he built his own instrument, bow, and strings before he began studying the viola da gamba on his own. Three years later, he entered the Conservatoire National Supérieur de Musique in Lyon to study with Marianne Muller. He has also received advice from Jordi Savall, Wieland Kuijken, Roberto Gini, Philippe Pierlot.
He has played under the direction of Roberto Gini, Pierre Cao, Jordi Savall, Philip Picket, Dominique Vellard, Gabriel Garrido… In chamber music he has played with ensemble Résonances, Pau Marcos Vicens, Marine Sablonnière, Bertrand Cuiller…
Victor Aragon teaches viola da gamba at the Conservatoire de Meaux and Beaux-Arts music school in Montpellier.